This year's Earth Day theme is "A Billion Acts of Green", and the goal is to inspire and reward simple acts that further the objective of supporting sustainability for our one -and only- planet. As co-founder and president of Consumer Cellular, I'm proud to say we take simple green acts seriously. In fact, in April of 2009 we created our first Green Team.
I'm also proud to announce that Consumer Cellular's Green Team recently won the "Recycle at Work" award, presented by Washi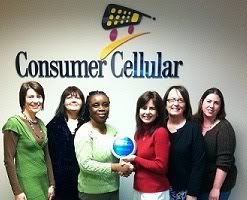 ngton County, the second largest county in the state of Oregon. We received the award for being one of only 50 local companies recognized for producing less waste, recycling more and buying more recycled products.
In just one example of their efforts, our Green Team implemented the use of smaller, more eco-friendly SIM cards. Currently, we ship about 32,000 of these new SIM cards each month. The good news is… it takes less energy to produce and distribute the new eco-friendly SIM cards, and fewer materials are used to make them! Plus, we continue to recycle all of our old SIM cards and associated packing materials.
That's not all. Here are just a few of the other green steps we've taken:
-More than 95% of our shipping waste is recycled, including 3,000 plus shipping boxes each month.
-We recycled over 83,000 phones and all proceeds from this program go directly to Doernbecher Children's Hospital Foundation.
-We have over 85,000 customers set up on email billing -that means over 1 million fewer paper invoices generated per year.
According to a Chinese proverb, "A journey of a thousand miles begins with a single step." Green acts can also begin with single steps. I encourage you to send us your suggestions on more steps we can take to help reduce our carbon footprint. Although today, April 22, may be officially known as Earth Day, here at Consumer Cellular we consider every day to be Earth Day.